Market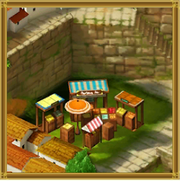 Description
As a sign of your growing reputation in Pirate Island, trade blossomed and a Market was built. You can earn a small amount of Gems here over time, up to a max of 5 at a time. Obtained after finishing quest 1-10 To the Open Sea. This structure gives you free Gems periodically.
Effect: Increases Production time per 1 gem
Level 1
54 Mins
Level 6
42 Mins
Level 2
52 Mins
Level 7
40 Mins
Level 3
48 Mins
Level 8
37 Mins
Level 4
46 Mins
Level 9
34 Mins
Level 5
44 Mins
Level 10
30 Mins
Ad blocker interference detected!
Wikia is a free-to-use site that makes money from advertising. We have a modified experience for viewers using ad blockers

Wikia is not accessible if you've made further modifications. Remove the custom ad blocker rule(s) and the page will load as expected.