Temple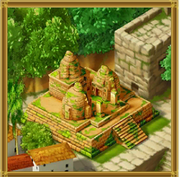 Description
As your fame grew in Fallen Lagoon, this mysterious Temple was discovered. It boosts maximum storage for your Merchant Ship (Gold) to handle the tourist income!
Effect: Increase Merchant Ship (Gold) storage multiplier.
Level 1
1.1X
Level 6
1.6X
Level 2
1.2X
Level 7
1.7X
Level 3
1.3X
Level 8
1.8X
Level 4
1.4X
Level 9
1.9X
Level 5
1.5X
Level 10
2.0X
Ad blocker interference detected!
Wikia is a free-to-use site that makes money from advertising. We have a modified experience for viewers using ad blockers

Wikia is not accessible if you've made further modifications. Remove the custom ad blocker rule(s) and the page will load as expected.