Training Grounds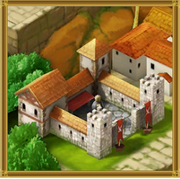 In the Training Grounds, pirates are enhanced to a point that they can be promoted. A Pirate's rarity or star value increases if they acquired the necessary conditions through this process. The Training Grounds will be accessible if stages 1-6 of the main story are cleared.
| Description | Effects |
| --- | --- |
| A place where pirates challenge each other to become stronger. You can make pirates more powerful by strengthening and promoting them here. | You can Strengthen or Promote pirates here. |
Ad blocker interference detected!
Wikia is a free-to-use site that makes money from advertising. We have a modified experience for viewers using ad blockers

Wikia is not accessible if you've made further modifications. Remove the custom ad blocker rule(s) and the page will load as expected.